ExtraMile Arena Seating Chart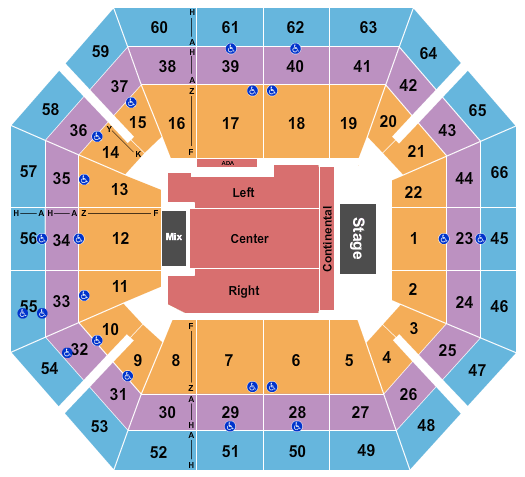 General Seating and Standing
The ExtraMile Arena is never short on seating options, with such a large capacity of 12,644 – there's always a suitable choice for everyone.
Around the center stage at ExtraMile Arena, there is a main general admission arena floor which is transformed for concert events and is the perfect position for music fans that like to enjoy the heart of the crowd experience.
Aside from general admission, the venue provides endless options for seating which is arranged in three main tiers, all numbered and easy to locate upon arrival.
As the seating is arranged in a full circle surrounding the main stage or sports court, the 360 degree views from every area are set to impress!
The ExtraMile Arena really does go the extra mile to provide all fans with the highest quality setting to experience live sports and music. As the venue brings a real community feel to it's crowd and always puts the needs of it's fans at the top of the list.
Along with it's impressive seating, the ExtraMile Arena also features state-of-the-art video boards, LED ribbon boards, ADA compliant closed-caption boards and a concert-grade sound system to enhance every match, tournament and live performance.
The VIP Experience
Along with general admission seating, the ExtraMile Arena also gives it's guests the option to choose to feel like a VIP for the night.
If you opt for a VIP Package, you will gain access to the VIP blue room, the best seats in the house and for some very special concerts, you may even be able to make the most of the exclusive meet and greet with your favorite music artist!
VIP gives you all of the greatest benefits and is a great option to really make the most of your time at the ExtraMile Arena.
NOTE: ExtraMile Arena at Boise State University may host events that require different seating arrangements. When you select your tickets, please check the seating chart map that is specific for your event.
You can book your ticket today and grab yourself the best seats available. Check out the ExtraMile Arena schedule to see all the exciting upcoming events.
For policies and authenticity guarantees regarding the tickets provided, please see the ticket information page.